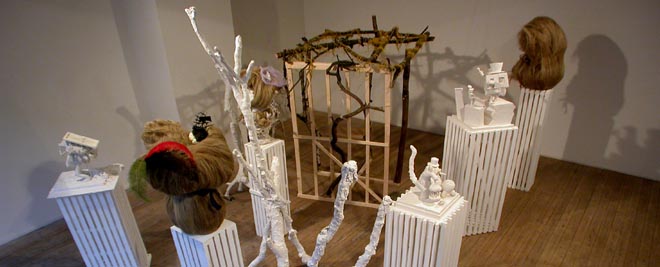 ---

Die Galerie für Landschaftskunst freut sich Nils Norman und Stephan Dillemuth für ein gemeinsames Projekt gewonnen zu haben.

Beide Künstler haben sich in den letzten Jahren extensiv mit utopische Lebensentwürfen beschäftigt. Ihre Recherchen reichen von den religiösen Gemeinschaften zu den utopischen Sozialisten, von den Lebensreformbewegungen zu den alternativen Erneuerungsversuchen der 1970er Jahre.

Für ihre Ausstellung 'alles zukünftige wird notwendig kommen' werden die beiden Künstler die früheren Räumlichkeiten der Galerie (eine Hütte und ein Garten im Hinterhof am Lornsenplatz) in die jetzigen Räume hinein abbilden. Auf diese Weise gewinnen Norman und Dillemuth ein utopisches Terrain für ihre 'skulpturalen Manöver' gegen die 'corporaten Märchen' der global operierenden Konzerne und deren Versuch das Begehren nach einem besseren Leben zu instrumentalisieren.
---
The Galerie für Landschaftskunst is happy to have secured Nils Norman and Stephan Dillemuth for a collaborative project.
In the last years both artists have researched extensively utopian backstories and affinity groups. Their investigations range from religious communities to utopian socialists, from the life reform movements to alternative experiments in the 1970s.
For their exhibition "everything in the future will necessarily come" the artists have transferred the former space of the gallery (a hut in the garden in the backyard at Lornsenplatz in Hamburg Altona) to the present gallery space on Admiralitätsstrasse. Thus creating an utopian terrain for sculptural maneuvres against the "corporate fairytales" of the globally operating companies and their attempts to instrumentalise the desire for a better life.
---
Links: | Dismal Garden | Galerie für Landschaftskunst | Societyofcontrol | Hermitages | Corporate Anthems | Lebensreform Swiki | Lebensreform Pix |